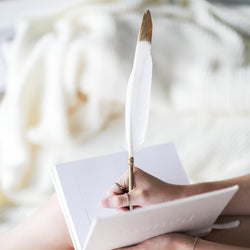 Pause + Feather BUNDLE - 15% off
$65.00
$0.00
To celebrate the art of writing, we're bundling our most popular title, Press PAUSE, and our timeless white feather pen at an exclusive price!
Gift yourself or a precious friend the gift of memories with this perfect duo; your new writing companion, Coco + our best-selling mindfulness journal, Press PAUSE. Designed with refillable 1mm black ink, the luxurious gold dipped feather pen is paired perfectly with our PAUSE journal for you to take 20 min a week to curl up in your fave spot and re-calibrate; to just think, feel, remember, explore, appreciate and celebrate life. Filled with fun questions, thought-provoking prompts, 52 weekly journaling pages, inspiring stories with Beau Taplin, Elise Cook & much more.
15% off when you buy them together!